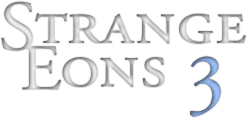 SE3 Documentation
These pages will help you get the most out of Strange Eons, the tool for creating cards and other content for board and tabletop games.
Tomes of knowledge

User manual
A guide to the major features of Strange Eons. How to create game components, manage plug-ins, create decks and projects, and more.
Advanced field guides

Developer manual
Plug-ins add support for new games and other features. This manual tells you how to make them. Go, read, learn, create!

Translation manual
Guidance for those who want to localize Strange Eons for other languages or improve existing translations.